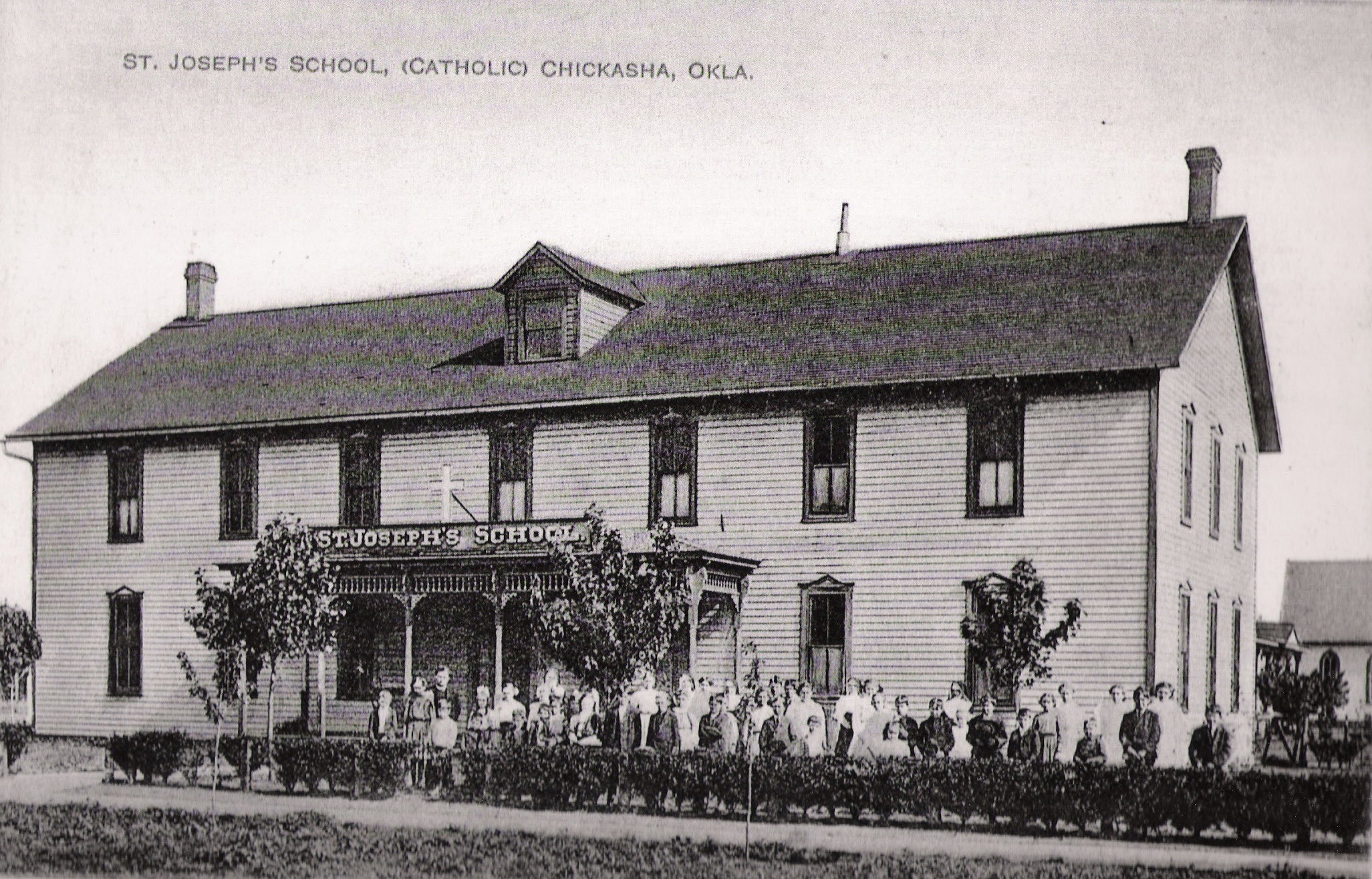 Saint Joseph Academy
---
Since distances were too great and transportation too slow, children attended schools centered in or near the large ranches in the County. School was held usually in homes for a family and neighboring children.
The first school in Chickasha, Oklahoma, was started in September 1892, and school was held in the Presbyterian church building. The following fall, a school building was built. A subscription fee of $1.50 a month was charged, but that was not enough to pay for the lumber used to build it, so the School Company made plans to sell the building in order to pay the debt.
In 1898, the property, consisting of a whole block, with a two-story school building, formerly built by the city as a subscription school and later used as a business college, was purchased from the Chickasha School Company by Reverend Isidore Ricklin, O.S.B. of Anadarko, for $1,650. The members of the Chickasha School Company relinquished all claims to Block 53 and sold all its improvements to the Catholic congregation. With the permission of Right Reverend Theophile Meerscheert, Bishop of Oklahoma and Indian Territory and the consent of the Most Reverend P. J. Ryan, of Philadelphia, Pennsylvania and at the request of Reverend Isidore Ricklin, Mother Mary Agnes, at the time, Superior General of the Sisters of the Third Order of St. Francis, Glen Riddle, Pennsylvania, sent four Sisters to open Saint Joseph School at Chickasha, Indian Territory, on the 25th of August, 1899. It was the only religious school in Grady County. St. Joseph School began with an enrollment of 135 students.
Improvements and addition were made through the first years to accommodate the increased number of children in the parish. When it was realized that the income of the Day School was insufficient to support the school, the Boarding School was initiated to provide more funds. The classrooms were on the first floor of the two-story building while the Sisters and the few children lived above. The number of children increased in the parish, therefore, more Sisters were needed. The Sisters needed more classrooms so they proceeded to build another small building from their funds. The Knights of Columbus urged the Sisters to enlarge the building, making a contract to occupy a portion of it until it was required for the school. It wasn't long until the school required all available space for classrooms.
The first public schools in Grady County were established in Chickasha in the fall of 1900. A subscription fee was charged until in 1902, after the town was incorporated, the citizens voted the first bond issue - $65,000 for the purpose of erecting school buildings.
After twenty years of steady labor and determination, a campaign was started for the purpose of obtaining funds for the erection of a new school. The growth of the school had been very rapid and the buildings were entirely inadequate to the use of the increasing student body. The campaign was a success and the rough red brick building which the residents of Chickasha remember as St. Joseph's Academy was built. The old white wooden building was moved, from the Northwest corner of 7th Street and Colorado Avenue to the Northeast corner of 8th and Colorado by the contractors, Monnot and Reid, and the building was later dismantled on July 30, 1937.
By 1924 the number of Sisters had increased to twelve; the number of boarders to seventy and the number of students in daily attendance to two hundred and fifty. By 1926, St. Joseph's Academy provided, in addition to the regular grade work, a four-year High School Course accredited by the State of Oklahoma, a course in Business training, and special courses in vocal and instrumental music.
The first graduates of St. Joseph's Academy were Mayme Teefey in 1908, Mary Laflin and Leno Brien in 1910, Gertrude Spalding in 1912, and Margaret McCaull, Ada Link, and Isabella Brooks in 1915. The first class to graduate from an accredited St. Joseph's in 1917, consisted of Myrtle Link, Marie Decker (Ross), Opal Burson and Thelma Mahoney.
Through the sixty-nine years of St. Joseph Academy's existence, Chickasha, has been witness to and benefited from the contributions made to it through its youth, and the Sisters of St. Francis: Sisters Mary Concordia, Luke, Lumen and Ethelburga, Sister Mary Cosma, Mary Libentia, Sister Mary Osmunda, Sister Mary Patricia, Sister Mary Gratiana, Sister Rose Marie, Sister M. Eldreda, Sister M. Teresa, Sister M. Rosaline, Sister Marie Rose Carmel, Sister Romula, Sister Florian. Sister Mary Benedict, Sister Mary Enda, Sister M. Eulalia, In it's final years, the sisters staffing the school were: Sister M. Carissa, Sister Alvira, Sister Honorata, Sister Gerlinda, Sister Humilianna, and Sister Anthony Geline. Many others can be seen in the census records below.
The words taken from the 1926 Year Book of St. Joseph's Academy, spell out the goals of the institution from the day of its founding on August 25, 1899 to the day of its closing, May 27, 1968. "It is the aim of St. Joseph's Academy to give its students an education, moral and intellectual, which will enable them to be models of every virtue as well as useful and accomplished members of society." St Joseph's Academy is remembered as a noble institution.
Source:
Chickasha Daily Express, November 17, 1898.
Chickasha Star Newspaper, May 17, 1968.
________
Chickasha, Grady County, Oklahoma
Saint Joseph's Academy is identified as St. Joseph's Catholic Boarding School on the Census of 1910. It was actually St. Joseph's Academy, a Catholic School conducted by the Sisters of Saint Francis. The census showed only 7 of the 25 boarding students were Indian. Those Indian students were also listed as residents of the St. Joseph Orphan School. The other students were found with their parents on the next census. Frequently, the orphan Indian students moved on to additional educational facilities. Some were found on the 1920 census in Murray County at the Murray State School of Agriculture in Tishomingo, Oklahoma.
St. Joseph's School, later called St. Joseph's Academy, was run by the Sisters of St. Francis. This order of religious nuns, in America, originated in 1855 in the city of Philadelphia. Bishop John W. Neumann enlisted the help of the sisters who had a base community in Ireland. Pope Pius IX counseled the bishop to found an American Community from within the ranks of his own parish in Pennsylvania. In reviewing the census records at St. Joseph we can see the prevalent Irish background of the Sisters, and also the Community's ties to the state of Pennsylvania.
---
Census Transcriptions:
1910 Census Oklahoma, Grady County, Chickasha, Ward 2 Pct. 1, Enumeration District 96.
Saint Joseph Catholic Boarding School
Address is: 702 to 728 Kansas Avenue
[ The students are listed first, and then the staff.]
Brooks, Belle W f 12 OK OK OK
Della W f 17 OK OK OK
Laflin Mary W f 17 OK NY TX
Reynolds Wana Ind f 15 OK TX OK
Fealy Agness W f 15 AR IR OK
Jourdan Leona W f 13 TX TX OK
Jay W m 12 TX TX OK
Payne Ethel W f 11 OK MO OK
Virginia W f 7 OK MO OK
Vera W f 9 OK MO OK
Laflin Josle W f 14 OK NY TX
Newton Harland W m 15 TX KY KY
Bernard W m 13 TX KY KY
Damien W m 11 OK KY KY
Clarence W m 5 OK KY KY
Letha W f 7 OK KY KY
Davis Ben Ind m 11 OK Eng KY
Henry Ind m 8 OK Eng KY
Ireton Jack Ind m 7 OK IRE TX
Thomas Ind m 10 OK IRE TX
Carnett Gertrude W f 9 OK Unk. AR
Whitaker Floyd W m 11 OK TX TX
Fryear Edward Ind m 7 OK TX TX
Robert Ind m 10 OK TX TX
Jackson Ida W f 9 TN MO TN
220 S. 7th Street Dwelling # 330
Sister Ludmilla Sister of Charity W f 34 Pennsylvania England New Jersey teacher
Ruth Sister of Charity W f 39 Ireland Ireland Ireland teacher
Osmunda Sister of Charity W f 38 Ireland Ireland Ireland teacher
Eshelburga Sister of Charity W f 38 Ireland Ireland Ireland laundress
Adonza Sister of Charity W f 36 Ireland Ireland Ireland seamstress
Huburta Sister of Charity W f 50 Penn France Penn cook
Most of the Sisters are recorded as speaking ' Irish' except for those born in Pennsylvania who speak English.
---
1920 Census Oklahoma, Grady, Chickasha, Ward 2 E. D. 167, Sheet 2A
Enumerated January 16, 1920 ( Saint Joseph's School)
No house number.
Dwelling 278, fam# 32
Morrissy Margaret head f W 48 IR IR IR mother superior
Moran Mary Sister f W 51 IR IR IR teacher
Tourcher Julia Sister f W 60 PA Fran. Fran. cook
Freeman Mary Sister f W 56 PA IR IR seamstress
Realy Catherine Sister f W 56 IR IR IR matron
Gallegher Susan Sister f W 45 IR IR IR laundress
Sweeney Mary Sister f W 42 IR IR IR teacher
Boyd Mary Sister f W 35 WY WY WY teacher
Turner Beatrice Sister f W 36 MO Engl. MO teacher
Hurd Josephine Boarder f Ind 10 OK OK OK (students)
Jewel Boarder f Ind 8 OK OK OK
Houston Boarder m Ind 12 OK OK OK
McKenna Patrick Boarder m W 11 NE IR NE
Helen Boarder f W 9 NE IR NE
Pruner Wanita Boarder f Ind 12 OK OK OK
Patrick Boarder m Ind 10 OK OK OK
Charles B Boarder m Ind 8 OK OK OK
Scherf Bernard Boarder m W 13 PA PA PA
Rosalia Boarder f W 11 PA PA PA
Urban Boarder m W 9 PA PA PA
Gerald Boarder m W 8 PA PA PA
Agnes Boarder f W 6 PA PA PA
Malone Emma Boarder f W 13 OK Bohemia Bohemia
Lilly Boarder f W 10 OK Bohemia Bohemia
Bowers Ruby Boarder f Ind 6 OK OK OK
Eva May Boarder f Ind 4 OK OK OK
William Boarder m Ind 8 OK OK OK
O Leary Joe Boarder m W ? MS MS MS
Mary Boarder f W 8 MS MS MS
Urban Dan Boarder m W 8 TX TX TX
Kelly Jesse Boarder m W 8 NM TX TX
Alexander Pauline Boarder f W 14 OK LA MO
Nellie Boarder f W 11 OK LA MO
Moore Eunice Boarder f W 13 OK MO OK
Sheba Boarder f Ind 11 OK MO OK
Bund John Boarder m Ind 12 OK IL IL
Kurtz John Boarder m W 19 OK USA USA
Coyle Isabella Boarder f W 16 PA PA PA
Cecelia Boarder f W 13 PA PA PA
Burson Maurice Boarder m W 14 OK NE Greece
Thompson Eva Boarder f W 15 Nor Nor Norway
Cofer Esther Boarder f W 13 OK IA MO
Long Thelma Boarder f W 15 OK OH KS
Byron Boarder m W 11 OK OH KS
Beeson Leonard Boarder m W 10 OK OK OK
Blake Clay Boarder m W 13 OK OK OK
Wanda Boarder f W 11 OK OK OK
Stennis Katheryn Boarder f W 15 Minn.Greece IA
Helen Boarder f W 13 Canada Greece Iowa
Thelma Boarder f W 22 Iowa Greece Iowa
---
Census 1930 Oklahoma, Grady, Chickasha, Ward 2, Enumeration District 9
Sheet 8B April 10, 1930
St. Joseph Catholic School (on lines 84 to 96)
210 South 7th Street.
Van Nus, Frank Head-Rectory 55 m s Holl Holl Holland 1911, 1918NA Priest, Catholic Church
Lenton Fred R Head 63 m mar. IL PA IL Dealer, Grain
Frances A. wife 41 f mar. KS NY IA
Osmunda Sister Sr. head ($75000) 55 f s Ire Ire Ireland 1886 1923NA Principal School - Cath.
Eradma Sister 56 f s Ire Ire Ire 1896 matron Catholic School
Grati Sister 58 f s Ire Ire Ire 1882 matron Catholic School
Joanetta Sister 46 f s OK OK England teacher "
Belli Sister 47 f s Ire Ire Ire 1903 laundress "
Anthony Sister 44 f s OK OK OK teacher "
Mary --?-- Sister 40 f s DE Ire Ire teacher "
Lordes Sister 35 f s Ire Ire Ire 1911 PA teacher "
Harold Sister 32 f s PA Ire Ire teacher "
Humiliana Sister 25 f s OK IA IA teacher "
Lilia Sister 32 f s Ire Ire Ire 1912 NA cook "
Stapleton Dorothy Pupil, Boarder 7 f s IL IL IL
Note: Sister Anthony and Sister Humiliana were still teaching at the school when I attended there in the 1950's and 60's.
They were Sisters of Saint Francis.
---