Jackson County, Minnesota
---
Jackson County, located in the southwest corner of the state, was first created in 1857. The County Seat is Jackson.
Cities, towns and communities include: Alpha, Bluff, Heron Lake, Jackson, Lakefield, Okabena, Petersburg, Rost, Sioux Valley, Spafford, Wilder and Wyanett. Note: Though a lake by the name of Heron Lake is located in Jackson County, the community of "Heron Lake" is situated a little farther to the northwest in the County.

Neighboring Minnesota counties include: Cottonwood County to the north; Watonwan County at the northeast corner; Martin to the east; Nobles to the west and Murray at the northwest corner; with the counties of Osceola, Dickinson and Emmet, in the state of Iowa, which is Jackson County's southern neighbor.
The Fritschers lived in Jackson County as well as in Murray and Nobles counties. Some extended Fritscher families later moved farther west into South Dakota.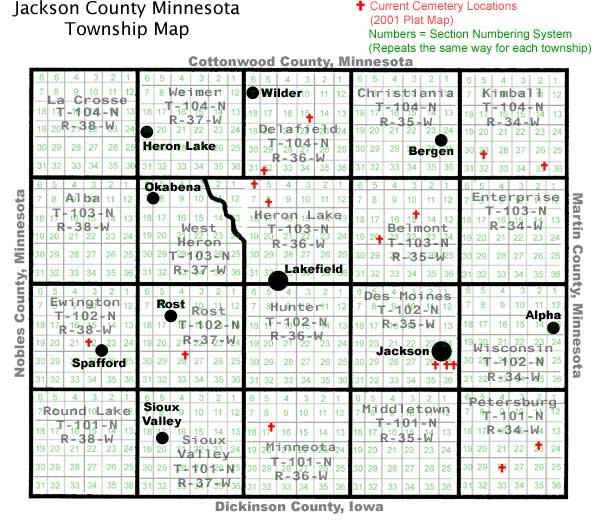 Jackson County Townships
Townships in Jackson County included Weimer, where the town of Heron Lake was located, LaCrosse and Alba as seen in the township map to the right. All are situated in the northwest section of the County, and all are mentioned as areas where our Fritscher families made their homes.
Anna Fritscher and her children Joseph, John and Anna were living in Alba township when they were recorded on the census of 1880
In 1883 Anna purchased land in the far northwest section of Alba township, the east half of the south west quarter of section 6. In April of 1885, Joseph and Theresia Fritscher list Heron Lake as their home on their son, Charles Joseph's, baptism record at Sacred Heart Church. In 1888, Johann purchased land in the west half of the south west quarter of section 6 adjacent and to the north of his mother's. Together, the Fritschers owned all of the west half of Section 6. Joseph Fritscher and wife Theresia Appel Fritscher owned land in Alba township in the west half of the NW quarter and the west half of the SW quarter and in 1893 they sold it to his brother John Fritscher. Joseph and Theresia had already moved to their new home in Pilot Point, Texas. On church baptism records from 1895 through 1906, the Joseph Eugene Fritscher family lists Heron Lake as their home. It was in 1894 that John Fritscher and his family joined his brother Joseph Fritscher in Pilot Point, Denton County, Texas.
Heron Lake, Minnesota
Heron Lake, Minnesota is located in Jackson County, which sits on the Southwestern border of the state. The Sacred Heart Catholic Church, located in Heron Lake, was the church home for the Fritschers in the late 1800's. Earlier, Anna Fritscher and her family attended Mass in Brewster, Nobles County, Minnesota. Brewster is located just southwest of the Fritscher homestead. At Brewster, it is likely that the Fritschers attended Mass at the home of one of the parishioners, or at a public building.
---

Source Information: Minnesota GenWeb.