Ship Information for the S.S. Oder
---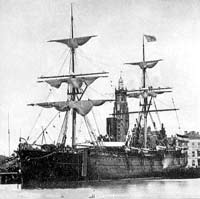 The SS Oder carried the Fritscher and Pelzl families and many friends in May of 1876, and later the Seidl family in September of 1876.* The ship sailed from Bremen and Southampton to New York with Captain Christian Leist as its master. The ship weighed 1891 tons. On the trip that arrived with the Fritschers on May 28, 1876 she carried 740 passengers.
The SS Oder, was launched December of 1873 with her maiden voyage in May of 1874 from Bremen to Southampton to New York. Her final voyage was April 26, 1885, on the Bremen-Southampton-New York service. The ship was an iron vessel built by Caird & Co. of Greenock in 1873 for Norddeutscher Lloyd Line (North German Lloyd). Her dimensions were 3265 gross tons, length 350ft x beam 40.3ft. straight stem, one funnel, two masts, single screw propulsion and a speed of 13 knots. There was accommodation for 90 1st, 126 2nd and 650 3rd class passengers and a crew of 103. In 1886 she was rebuilt with new high steamer boilers and new accommodations and then transferred to the Bremen-Suez Canal-Far East service. On May 30, 1887 she was wrecked in a storm on a rock outcropping of Socotra Island in the Indian Ocean.
A previous ship named the Oder was in service much earlier, built in 1851. That ship was completely a three masted ship, wooden construction weighing 621 gross tons. She carried only twenty-five 1st class and two hundred Steerage class passengers, with a crew of 18. That ship was on the Hamburg- New York service of the Hamburg America Line between 1851 and 1868.
---

* Joseph Fritscher's son married Dorothea Zipperer who descended from this line of Seidls.
Sources:
ITSG (Immigrant Ships Transcriber Guild) at immigrantships.net
Merchant Fleets in Profile by Duncan Haws, vol.4, Hamburg America Line